A couple of weeks back (Sept 16 2010) I presented a two part session on developing for Windows Phone 7 using Silverlight at FITC Mobile 2010. The session went very well and was extremely well received. Here is a picture snapped up by Joey DeVilla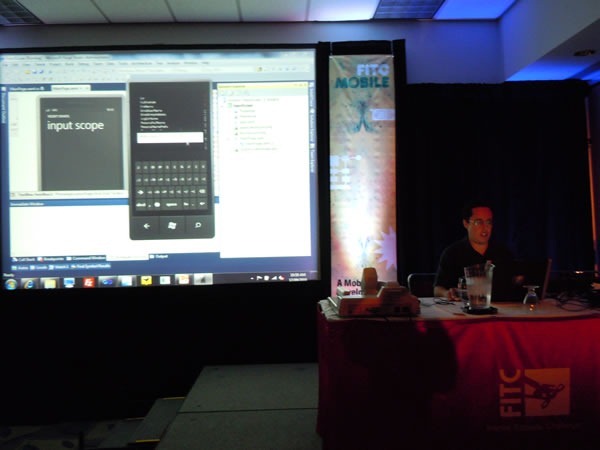 Windows Mobile has always been the odd platform at FITC but it's always great to present to a non-Microsoft centric crowd and get honest 'raw' feedback. Previous years it has been a challenge to convince people to adopt Windows Mobile as previously Windows Mobile did not have a great consumer story.
This year, that has changed! There was lot's of excitement on Windows Phone 7 and Microsoft had a presence at the conference with a booth showing off WP7 and the developer tools that are available. Today I got my feedback from the attendees and the best one
And remember this is from a non-Microsoft centric crowd and the typical crowd was iPhone, Android, iPad and Blackberry developers. So to get a comment like that the Windows Phone team should be proud of what they are delivering and I'm proud to be a part of the 'game' and helping customers get onto the Windows Phone 7 platform!
Here are the rest of the raw comments (including bad)
Building Applications for Windows Phone 7 using Microsoft Silverlight (Part 1)
Was the speaker knowledgeable on the topic presented? = 8.95
Did the session meet your expectations? = 9.15
Did the speaker present the material in a clear and well-organized way? = 8.90
Please rate the overall effectiveness of the speaker. = 8.60
This session will affect the way I work: = 7.50
Over all average = 8.62
Its exciting to see MS get back back into the game
Sound Presentation! Will Look into intergrating WP7 into workflow
I enjoyed getting to see the variety of features the windows phones to have
Good amount of info
Building Applications for Windows Phone 7 using Microsoft Silverlight (Part 2)
Was the speaker knowledgeable on the topic presented? = 8.88
Did the session meet your expectations? = 8.75
Did the speaker present the material in a clear and well-organized way? = 8.25
Please rate the overall effectiveness of the speaker. = 8.31
This session will affect the way I work: = 7.06
Over all average = 8.25
Visual Studio is frustratingly convoluted.
Enjoyed looking at the phone development in more depth than Part 1. Very interesting presentation.
thanks
Nice! Thanks! Brian
Lovve the tool sets for silverlight