Three weeks ago (Aug 12 2010) I was involved in a coffee and code focusing on Windows Phone 7.  It was a great day and even had an attendee develop an application that he won a prize for.
Well this week there will deployment clinics (or XAPathons) happening in the Toronto area and one in Ottawa where developers can test on real Windows Phone 7 hardware.  I've been lucky enough to have a device for about 4 weeks now and testing on a real device you do find issues you wouldn't find on the emulator.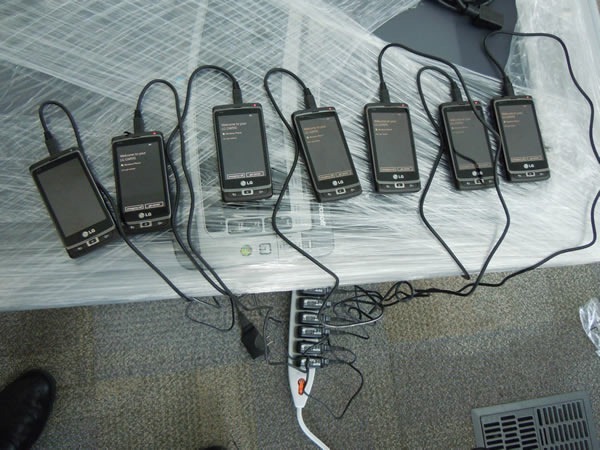 Joey DeVilla and Anthony Bartolo have the low down on their sites and why you should attend. 
Why Should Devs Test on Real WP7 Hardware
If you are building for Windows Phone 7 you can definitely get very far developing using the emulator and get fully functional applications.  But you still want to test on a real device before you deploy.  Here are some of my reasons why you need to go
Emulator Performance

Performance on emulator is not throttled meaning things will be faster on your desktop computer and compared to running on real device.  I had an issue where a ListBox was scrolling lightning fast on the emulator but on device it was very choppy.  Contained about 250 list box items.

Bing Maps and Windows Phone 7

If you are using Bing Maps you need to test on a real device.  Biggest challenge I found was when clicking on a pushpin or image using the emulator, you are using a mouse pointer and that does not really emulate 'finger touch'.  You want to make sure you have all that ironed out before you launch

Hardware Integration

If you plan on using some of the hardware such as camera, accelerometer or GPS, you want to test on this.  Camera should work the same but accelerometer and GPS you can write "simulators" but you want to make sure your code works with real hardware.

XNA Games

I've seen XNA games that do almost 100% code sharing across the three platforms but considering the emulator performance is faster than a real device you may run into some performance issues.  Nothing that can't be resolved but something you don't want to find out after you have launched to users via Marketplace!

Multimedia

If you plan on playing video or audio or integrating with the "Media Hub" you want to test on a real device.  I have come across some instances where media would play on the device but not the emulator which I'm hoping is a beta issue.  In any case see the Supported media Codecs for Windows Phone 7

Launchers & Choosers

Not everything is exposed on the emulator so currently the only way to test is on real device.  Again, hoping this is fixed when the Windows Phone Developer tools RTM but if you plan on using Launchers and Choosers you want to Test this

User Experience

This is not really code centric but trying your application's experience with a mouse is a lot different when trying it with your finger.  Can you use your software with one hand?  Do you want it to be one handed? Do you minimize typing of data? Do you support both landscape and portrait? Is your application useable in landscape? You want to make sure your users enjoy using your software so they continue to use it and recommend to their friends and you continue to make money!
That's all I can think of for now but if you can make sure you take advantage of the free events.  It will definitely be worth your while!  I'll also be traveling across Canada for TechDays 2010 and will be participating in a few events where I'm sure there will be devices to test on. So take advantage of it!!
Where to Go!?
So here are the details on where things are happening this Week
Wednesday, September 1st:
Thursday, September 2nd:
Friday, September 3rd:
There are also some events being planned for next week:
Thursday, September 9th:
Friday, September 10th:
So make sure you are there because it is definitely useful!